Namura C-Mark
We recommend this brush with substantial hog hair bristles to students and people just starting out with oil painting.
You can choose from a wide range of options to suit any purpose with brushes available in three shapes – round, flat and filbert – from sizes 0 to 16.
Both the "Flat Set" and the "Filbert Set" seven-brush sets are also just right as a starter set.
Bristle material: Hog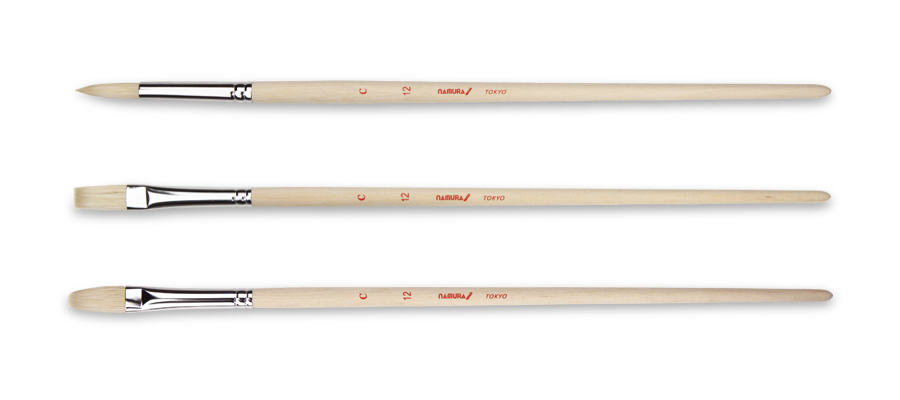 Round
Flat
Filbert
Size 0
¥250+tax
¥250+tax
¥250+tax
Size 2
¥300+tax
¥300+tax
¥300+tax
Size 4
¥350+tax
¥350+tax
¥350+tax
Size 6
¥400+tax
¥400+tax
¥400+tax
Size 8
¥460+tax
¥460+tax
¥460+tax
Size 10
¥510+tax
¥510+tax
¥510+tax
Size 12
¥570+tax
¥570+tax
¥570+tax
Size 14
¥650+tax
¥650+tax
¥650+tax
Size 16
¥750+tax
¥750+tax
¥750+tax
Seven-brush set H (Flat) Set
¥3,300+tax(Round Size 6・Flat Size 4・6・8・10・12・14)
Seven-brush set F (Filbert) Set
¥3,300+tax(Round Size 6・Filbert Size 4・6・8・10・12・14)